TBEA Xian Electric Technology Co. Ltd., is the world's leading PV-inverter manufacturer having its India Headquarters in Gurugram, has started a global initiative of conducting technology exchange conferences across India for spreading technology awareness of TBEA inverters on the platform named "TBEA smart pv technology exchange conference".
TBEA conducted second TBEA smart pv technology exchange conference in Mumbai which ended as a success with various clients like Waree Energy, Mahindra Susten, Aditya Birla Group, IBC Solar, Sterling & Wilson, Shahpoorji&Pallonji, Godrej, JSW Solar, Refex Energy participated in the seminar. Company takes this opportunity to understand the requirements from customers so that specific solution can be offered, and treats this event as a platform to showcase the company capability, project references and establishments, business progress in India and to share the upcoming plans.
The seminar happened to be comprised of TBEA Company profile introduction & a welcome speech from Mr. Mehul Sharma (India Head) along with a presentation by Mr. Sagar Kale (Regional Head, Mumbai) briefing TBEA Group as a whole and capabilities TBEA have to offer its clients with year on year growth.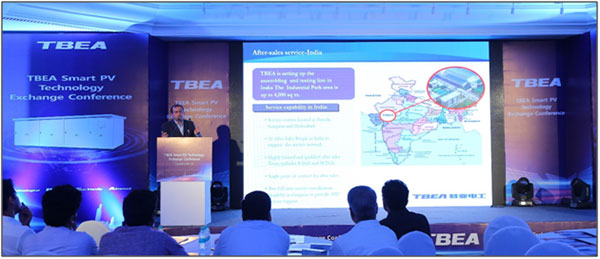 The seminar was further taken over by Mr. Naveen Jangda (Technical Head), with his technical presentation talking about various solutions offered by TBEA, technology offered, technical parameters assuring best performance in harsh conditions, performance graphs of TBEA inverters, reference projects in various environments from high altitudes to hot weather.
Session also included introduction to TBEA new launched products for Indian PV market i.e of 1500V 3.75MW & 5MW Outdoor Solution which is based on new technology of inverters explained during the conference.