Net-zero carbon emission target talks gaining traction ahead of the US President Joe Biden's Leaders' Summit on Climate and the recently concluded International Energy Agency's (IEA's) COP26 Net Zero Summit.
April 20, 2021. By Manu Tayal
With net-zero carbon emission target talks gaining traction ahead of the US President Joe Biden's Leaders' Summit on Climate and the recently concluded International Energy Agency's (IEA's) COP26 Net Zero Summit, in which Power and New and Renewable Energy Minister of India, RK Singh advocated the need for "all the developed countries to not talk about net-zero emissions but talk about removing more carbon from the atmosphere than they are adding i.e. Net Negative Emission."
According to the World Resources Institute, "to reach net-zero emissions - remove carbon to balance out remaining emissions."
To reach net-zero emissions, many countries globally agreed to limit warming well below 2 degrees C, under the Paris Agreement. India too committed to achieving 40% of its installed electricity capacity from non-fossil fuels by 2030, as part of the Paris Climate Deal. For achieving this goal, India has set an ambitious target of 175 GW of installed renewable energy (RE) capacity, including 100 GW from Solar by 2022. It has also set a target of 450 GW of installed RE capacity, including 280 GW from Solar by 2030. To achieve the 2030 Solar target, India needs to yearly install around 25 GW of Solar energy.
During the past few years, India had taken giant strides in adding RE capacity, which was also validated by Moody's Investors Service statement on India saying "wind and solar generation grew at a CAGR of 20% in FY2015-20."
As of February 28, 2021, India added 92.97 GW of installed RE capacity, and a cumulative capacity of 3.917 GW of Rooftop Solar (RTS) plants has been installed. Further, the installed capacity of grid-connected solar power reached 39,083.67 MW at the end of February 28, 2021, out of which 34,759.13 MW from ground-mounted and 4,324.58 MW from rooftop solar, as per MNRE.
With almost 20 months remaining, India needs to build massive Solar capacity to reach 2022 goals. The picture could be different in the absence of covid situations, although Government had tried to provide all possible support from time to time. In line with this, in my journey of exploring further about the current state of the Indian solar industry, we talked to power industry stakeholders representing various segments of the industry. Every segment of the Solar industry has a different impact on the various government policies with regards to the implementation of Solar projects, whether it be - Basic Customs Duty (BCD), Approved List of Models and Manufacturers (ALMM) of solar photovoltaic (PV) cells and modules, Production Linked Incentive (PLI) Scheme, Tariffs, Safeguard Duty, etc.
Basic Customs Duty
To make solar power competitive and affordable for end-users, the government had kept the imposition of Basic Customs Duty (BCD) on the back burner for a long time, but global supply restrictions amid covid-induced lockdown, and continued tensions on the border with the neighboring country China has provided much-needed ground for Centre's 'Make in India' or 'AtmaNirbhar' initiative. Thus, Finance Ministry has recently provided its go-ahead for the implementation of 25% and 40% BCD on solar cells and modules respectively (without grandfathering of the bid out projects), effective from April 01, 2022.
Taking a cue from the BCD announcement which gladdened the Indian solar manufacturing industry, Avinash Hiranandani, Global CEO & MD of RenewSys, a manufacturer of the encapsulant, back sheets, PV cells, and ALMM approved modules, while talking to Energetica India, said "the BCD will provide the impetus required for PV module and cell manufacturers to meet expansion plans."
On the impact of BCD implementation on the manufacturing industry, Tarang Khurana, Director of Icon Solar-en Power Technologies, an ALMM approved solar module manufacturer, shared with Energetica India that "industry is hopeful that this decision does incentivise people to put up solar cell manufacturing units which is the need of the hour. This backward integration and growth are extremely critical especially with the rise in government orders asking for Domestic Content Requirement (DCR) fulfilment. From the industry standpoint, this integrated growth can also help in boosting the R&D infrastructure in India. This can prospectively propel us to be technology developers and drivers and not merely adopters."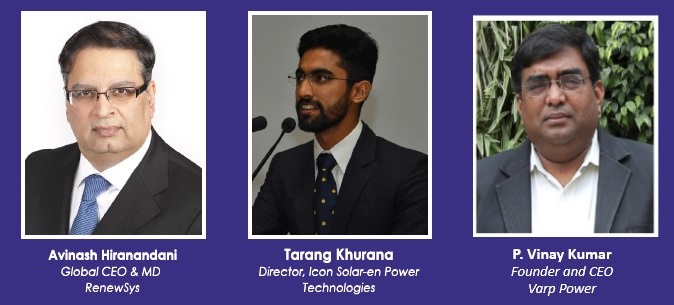 Notably, the module manufacturing capacity in the country is around 15 GW, currently, and cell manufacturing capacity stood at around 3-3.5 GW, which are expected to be doubled in coming years on the back of various policy initiatives announced by the Government for domestic manufacturers. However, India still doesn't have ingots and wafers manufacturing capacity, and imports around 80% of solar equipment including cells and modules from overseas markets, which are cheaper too as compared to the domestic market.
Thus, Indian solar project developers can't bank completely upon domestic manufacturing to meet the 2022 targets, as building up a manufacturing base to fulfil the requirements of the entire domestic market will take time, and the project developers will continue to depend on imports. However, post BCD implementation the prices of imported equipment, too, rise.
In line with this, Ajay Yadav, President of REAR Renewable Energy Association, expressed concern about the small-scale module manufacturers and told to Energetica India that "in the BCD announcement there is 25% duty to be levied on cells as well which will a create positive impact on few companies who are into cell manufacturing but for the module manufacturers who are dependent on import for cells, it will be problematic since they have no other option to buy cells from Indian manufacturers or to pay 25% BCD on imported cells. As far as Indian cell manufacturing is concerned it's nowhere comparable with the demand in India."
Taking a cue from Ajay Yadav's demand-supply concerns, Naveen Arora, AVP, Procurement, Amplus Solar, owned by Malaysia's state-run oil and gas company Petroliam Nasional Bhd, shared his concern to Energetica India that "all Indian manufacturers are somehow dependent on China for major raw materials like wafers, cells, glass, EVAs, back sheets, and it will be worth noting what strategy China will play on this supply chain considering India's move of BCD on Cells and Modules along with Countervailing Duties and Antidumping Duties on Glass and EVA."
Significantly, a leading Chinese module manufacturer, said that there's a continued shortage of raw materials like polysilicon and glass, and would result in higher module prices. It said the prices of polysilicon are rising continuously due to various reasons including a 10% price hike by polysilicon suppliers in Q1 2021, slow speed of import logistics supply amid covid restrictions, extended clearance duration, shortages in shipping containers, etc. It also hinted that the supply chain disruption will last at least 3 months or longer.
ALMM Lists and PLI Scheme
To support domestic solar manufacturers, the government has also notified ALMM lists in the recently concluded quarter of 2021, which contains only Indian manufacturers. It has been mandated that all Government projects including those set up for sale of electricity to the Government shall use brands of cells and modules from this ALMM lists only. This is an additional provision to restrict Chinese suppliers in addition to the BCD provision.
Adding to it, the Union Cabinet has also approved the Rs 4,500 crore PLI Scheme for Solar modules to boost the capacity of high-efficiency Solar module manufacturing in India.
Taking a cue from ALMM, PLI Scheme, Tarang Khurana said "this imparts credibility to the products being used in such critical projects. Along with the BIS standards and DCR criterion, ALMM will positively impact the domestic manufacturing base. Whereas the PLI scheme if implemented effectively for the development of solar cell and high-efficiency modules manufacturing, can kick-start the self-sustainability of the industry in India."
Focusing on the need for investment, Subrahmanyam Pulipaka, CEO of National Solar Energy Federation of India (NSEFI), shared with Energetica India on the PLI scheme that "it attracts investments into the domestic supply chain for solar PV in India that is needed to strengthen Indian Solar manufacturing."
Sharing point of view on these policies with Energetica India, P. Vinay Kumar, Founder and CEO of Varp Power, an owner, and operator of the solar rooftop/open access developments, commented "the entire exercise of putting up a tariff wall is part of a larger set of measures to incentivise domestic Manufacturing industry. The proposed tariff hike has to be viewed in the context of the PLI scheme for high-efficiency cells and modules and the upcoming approved licensing scheme for module manufacturers (ALMM). All these measures form part of the Atma Nirbhar narrative. We expect domestic manufacturers to get a filip and it is now up to them to deliver."
While, Ajay Yadav, expect "the manufacturing industry should work to compete globally in terms of technology, price as well as volume to cater the domestic requirement as well as export to other countries."
Agreeing with other stakeholders, Manoj Gupta, VP-Solar and Waste to Energy Business, Fortum India, the Indian arm of €49-billion Finland-based Fortum Oyj, shared with Energetica India that "it is now important for Domestic manufacturers to come out with best quality solar module which should perform for at least 30 years so that these modules become bankable to the lender."
No doubt, the government's motive behind such policies announcement, whether BCD, PLI Scheme or ALMM Lists, etc, has been to set up a manufacturing base in India under 'AtmaNirbhar' initiative and to avoid dependence on imports. But will these policies positively impact the entire Solar industry ahead of the 2022 targets?
BCD Impact on Developers
On the BCD Impact on Developers, Simarpreet Singh, Founder-Director of Hartek Solar, a unit of EPC major Hartek Group, told Energetica India that "the imposition of BCD will push up costs, leading to higher tariffs and reduction in capacity additions in the short term, but the decision will help in achieving the objective of Aatmanirbhar Bharat from a long-term perspective. However, we cannot afford to ignore the fact that overdependence on imports might cause supply disruptions, as witnessed globally in the aftermath of the Covid-19 pandemic."
On the other hand, P. Vinay Kumar said "Bidders with government contracts may not really be impacted. PPAs signed before the issue of the MNRE advisory would get shelter under "change of law". Bids after the advisory date would need to factor in these projected tariffs while bidding. Either way, the solar tariffs are bound to rise unless the Chinese OEMs drop prices to mitigate this impact."
Further explaining Vinay Kumar's point of a price drop, Naveen Arora, said "there will be no price benefit from buying locally because Indian manufacturers always adjust their price with respect to landed price of modules from China. They will not give benefit to the buyer and this will only increase the profit margin of manufacturers because they only have to pay 25% BCD of Cells and Cells only make up 50% of the Module Cost."
If the concerns raised by Solar developers wrt to price monopoly from domestic manufacturers, comes in, then it will result in a significant hike in tariff in future biddings and also impact the Solar project development ahead of 2022 targets.
In line with this, Pinaki Bhattacharyya, CEO & MD of Amp Energy India, a renewable energy power producer selling green power to mainly C&I customers and Government institutions, told to Energetica India that "imposition of BCD although removes considerable uncertainty and provides some visibility to the industry but a move like this will slow down the race towards the 175GW target by 2022 i.e. next year. The rates are too high and will increase the cost of power for manufacturing as well as other industries in the country."
Impact of Tariffs and Grandfathering Clause
Agreeing with Pinaki Bhattacharyya, Manoj Gupta, said "the move is a right step under Atmanirbhar Bharat. But the rates are quite high and will increase the cost of solar power for DISCOMs and consumers and uncertainty in the signing of Solar PPA and PSA may continue for a longer period due to an increase in the effect of tariff in the range of 20-25%. However, this move will definitely be beneficial for domestic manufacturers as this move of imposing BCD has come to promote domestic manufacturing."
Adding to it, P. Vinay Kumar, explained "the impact on tariffs is bound to be significant. We expect the tariffs to rise to the tune of 25-30% at the current level of module prices. This can change if we see a significant ramp-up of domestic capacity at reasonable prices. It is also quite likely that Chinese manufacturers can drop prices to mitigate the impact of tariffs. We will need to watch this space closely. Also let us remember that 40% BCD level, actually translates to a ~52% net impact due to the cascading effect, of other components of the duty like social welfare surcharge (SWS) and IGST. So the impact on tariffs can be substantial. As to the grandfathering clause for existing projects, MNRE has clarified that the grand-fathering clause would not apply to older projects. If older projects import at these higher rates, they would have the benefit of "change-in-law" clauses in their PPAs. They would have to go through a regulatory process for this and might take time. And more importantly, this has to be funded with equity, as the lender may balk at funding this cost increase."
Clarifying the funding point, Naveen Arora, further explained the possibility that "many International Developers will lose interest as they don't have confidence in the quality and financial stability of Indian Module Suppliers. This entire industry is running with risks related to module performance and financial stability of module manufacturers for 25 years. No Indian manufacturer currently has a good Bankability Index that is measured by international agencies."
Safeguard Duty
As of July 29, 2021, the current 14.5% safeguard duty is going to be expired and the solar developers are eagerly awaiting the DGTR confirmation whether they will get a time window before the BCD comes in next year, so that they can make necessary orders to avoid the expected price hike up to some extent.
On the uncertainty, Naveen Arora said, "there is still no clarity whether SGD will be extended further till BCD comes in, or there will be a no duty period during which developers can purchase modules to protect them as grandfathering has not been given on BCD for projects which were bid earlier."
However, P. Vinay Kumar opined, "this now remains as a big part of the puzzle that remains to be clarified. Provisional SGD currently running at 14.5% is scheduled to lapse by the end of July 2021. We need to remember that the current SGD is a provisional one pending final determination by the DGTR. So going strictly by the process, we should have the investigation completed and the final rates announced by the time the provisional rates expire. The ball is in the court of DGTR and the petitioners from the domestic solar manufacturing business. There is a wide expectation that SGD would not be subsumed in the proposed hikes. We will need to wait to hear from DGTR for final clarity on the SGD rates going forward."
Industry Expectations
However, Avinash Hiranandani, urged the government that "Due to the pandemic, Indian manufacturers were unable to fully utilize the benefits of the Safe Guard Duty (SGD), which will end on July 29, 2021. We hope that the SGD will be extended till BCD comes into effect to maintain continuity for PV module manufacturers in India.
We are also hopeful that going forward other key components of PV modules like Glass, Encapsulants, Backsheets, Junction boxes, etc. will be included in these tariff barriers, thus helping the entire PV manufacturing ecosystem flourish, as we work towards the common goal of an Aatmanirbhar Bharat and developing India as a global base for quality PV manufacturing."
Besides, the manufacturers in the Special Economic Zones (SEZs) are expecting clarity from the Government, on whether this BCD would apply to them as well or not because in case of BCD implementation on SEZ units, their products would be treated as imported products despite manufacturing in India and would need to compete with other domestic manufacturers in the non-SEZ area. The units in SEZs enjoy some tax relief from the government but they claimed that the benefit is not so significant these days.
On the other hand, Ajay Yadav suggested, "imposing duties on imports can never be the permanent solution, whether it's for modules, cells or even inverters and government should provide direct manufacturing subsidies to manufacturers to help them scale up their capacities."
While Simarpreet Singh advocated "the government should announce incentives to promote R&D of increasingly cost-effective technologies. The resultant economies of scale will not only reduce India's dependence on cheap imports from China and Malaysia in due course, but it will also enable the country to emerge as a major exporter of solar modules and cells in years to come."
On providing a level playing field, Manoj Gupta expects that "this will be instrumental in providing clarity to Independent power producers in various aspects relating to the date of effect and percentage of BCD. We believe that the government should have announced the downward periphery of BCD which would have made the overall environment competitive for Indian players to compete in the global markets as well."
However, Pinaki Bhattacharyya commented, "although this has been done with a positive sentiment to promote domestic manufacturing and reduce dependence on imports but the method should have been different."
Think Tanks
In most cases on import duties or tariffs, solar manufacturers and developers were found to be on opposite sides of the court. So, we talked to the think tanks also who closely analysed the industry in some balanced way.
On the whole scenario, Pradeep S Mehta, Secretary General of CUTS International, a strong advocator of consumers, clearly stated while talking to Energetica India that "the Indian Government's decision to impose an import duty on solar modules and cells may act as a boon for the domestic manufacturing sector, especially in the context of the recently announced PLI schemes for solar modules. The move might be strategic in boosting employment and the local economy while making India the next global hub for solar energy equipment. While lower import dependency is the way forward to achieve India's 'Atmanirbhar' renewable energy dream, but it must not come at the cost of competitiveness."
Mehta further added "the BCD should be a time-bound measure and additional reforms towards fostering domestic competitiveness will be required to supplement it. The move may promote innovation and competition in solar manufacturing by motivating manufacturers to produce more cost-effective domestically manufactured modules/cells."
"While the move may have positive connotations for the manufacturing sector, it may not be favourable for DISCOMs as bidding tariffs will rise in the short term, affecting their immediate operations. This may result in the unintended consequence of passing off the increased costs to consumers. Thus, the impacts should be periodically reviewed and necessary safeguards should be provided to all stakeholders for making this move a success," Mehta suggested.
While talking to Energetica India, Dr. Ashvini Kumar, Sr. Director, Renewable Energy, The Energy and Resources Institute (TERI), supported the imposition of BCD and said "the declared duty structure is an important step towards the stated goal of Atmanirbhar Bharat. It can be expected to trigger scaling up of local manufacturing of solar cells and solar modules. Also, the existing manufacturing facilities would be benefitted to attract business on the basis of cost competitiveness."
However, Dr. Ashvini also warned that "Developers would need to work out carefully financial implications and delivery schedule of their projects keeping in view available capacities from domestic manufacturing and requirement of imports for meeting project timelines. The new duty structure may adversely affect projects which have already been awarded and their delivery schedule is post April 2022. However, most of the PPAs have a provision for 'change of law' which can be used in all such cases."
"Bidding tariffs are expected to rise to account for increased cost of solar cells and modules. Existing projects would have recourse to provisions of PPAs howsoever cumbersome and time taking it is," Dr. Ashvini added.
Specifically pointing on SGD, Dr. Ashvini commented, "Safeguard Duty is one issue which I would expect Government to come forward for removing anomaly post July 29, 2021."
On the ALMM provision, Dr. Ashvini opined "it strengthens the resolve of the Government to give a fillip to manufacturing activity in the country. This is well supported with other recent policy announcements of production linked incentives for the manufacturing of high-efficiency solar cells and modules. The Government has also shown its intent to keep an eye on the quality of imports, which has been a matter of apprehension in many projects. For this, a policy on the approved list of modules and manufacturers have been brought out which is in its initial phase of implementation. I would feel that it has to be given a serious try and fine-tuned, wherever required, in close interaction with the industry.
In addition, a strong need is felt for supporting research and development in this sector involving industry to come out with the development of advanced technologies from Indian scientific establishments to sustain the broad objective of Atmanirbharta on a longer-term."
Taking cues from Dr. Ashvini's suggestions, Subrahmanyam Pulipaka said, "at NSEFI we are geared up to cater to the needs of the manufacturing industry. We will be soon launching the Solar Manufacturing Facilitation program. This program will act as a platform to carry out dedicated activities for promoting domestic solar manufacturing in India, connecting investors with manufacturers. This will also function as a match-making platform for joint ventures apart from acting as a one-click stop for every information/incentive related to the setting up of solar manufacturing in different states of India. This platform will house a Research Advisory Coalition consisting of NSEFI Members and Researchers from reputed Science and engineering institutes of the country to commercialize high-efficiency cell research in India."
Meanwhile, to achieve the target of 100 GW solar power, around 60 GW of solar power capacity has been required to be added to the present solar power generation capacity of around 40 GW as of February 28, 2021.
As per MNRE estimates, the solar industry has already made a capital investment of around Rs 4,000 crore/ GW, but the amount of additional investment required has been around Rs 2.5 lakh crore. It is expected that this investment will largely come from the private sector. This will only be possible if all industry stakeholders can get a level playing field, and India can win the race towards 2022.