Despite severe stress of the country's economic revival, Finance Minister and her team had tried to remain no stone unturned, in keeping the promise of 'Budget like never before' amid Covid scenario, and gained appreciation.
February 02, 2021. By Manu Tayal
Despite severe stress of the country's economic revival, Finance Minister and her team had tried to remain no stone unturned, in keeping the promise of 'Budget like never before' amid Covid scenario, and gained appreciation. Infact, Finance Minister has chosen the measures for economic revival through promoting clean energy by providing more finances for SECI and IREDA, emphasizing Aatmnirbhar Bharat via encouraging domestic manufacturing, refraining from imposing Covid related extra cess, duties and taxes. Although, duties on solar inverters and solar lanterns has been proposed. Here's how the renewable energy industry stakeholders evaluated the Budget 2021:
Tulsi Tanti, Chairman Suzlon Group and Indian Wind Turbine Manufacturers (IWTMA) Chairman
"I am particularly inspired by the Union Budget presented by our FM. It has the right set of priorities and initiatives required to stimulate our nation's economy post the COVID 19 crisis. The budget is bold and focusses on the basic drivers of our economy. Focus on infrastructure, power sector and renewable energy is particularly encouraging, however, there is ample impetus for healthcare and Aatmanirbhar Bharat. I am also delighted to see that the government is focusing on Inclusive Development, Innovation and Human Capital which is going to build the new India of our dreams.
This is a very comprehensive budget and there is enough in this budget for all sections of the industry and society. The stimulus for the MSMEs will help build the foundation of a strong domestic economy. It is rare to see such a wide range of coverage in the Union budget and I congratulate the Finance Minister and the Government of India for the same. I am sure this budget will go a long way in building a sustainable and strong India."
Nitin Prasad, Chairman, Shell Companies in India
"We welcome the inclusive and comprehensive budget announced by the Honorable Finance Minister, with its clear emphasis on facilitating and supporting India's economic, social and green recovery from the pandemic. The energy sector reforms highlight the government's focus on energy transition. Measures to improve and simplify the energy infrastructure for oil and gas, launch of the hydrogen energy mission, boost to non-conventional energy sources and emphasis on clean air are welcome steps that will strengthen India's sustainable growth and broaden access to uninterrupted, low carbon energy. We also applaud the slew of measures to help startups and MSMEs grow, a step that will further boost the resolve of an 'Atmanirbhar Bharat."
Sanjay Aggarwal, Managing Director, Fortum India
"The Union Budget presented by the Hon'ble Minister Nirmala Sitharaman has announced crucial steps to contribute towards the growth of the Indian economy. We welcome the measures proposed by the government to address concerns related to air pollution and promotion of renewable energy sector. The outcome and result-based financial package of INR 3 lakh crore for discoms is a good move. Setting up of The National Hydrogen Mission, allocation of INR 2,500 crore to SECI and IREDA, and introduction of a phased manufacturing plan for solar cells & panels will help boost the renewable energy sector, going forward.
Considering the high levels of pollution that the country has been witnessing, FM's proposal of INR 1.41 lakh crore for Urban Clean India Mission, INR 2,217 crore for 42 urban centres with million-plus population for clean air and launch of a voluntary vehicle scrapping policy is laudable. The scheme would promote fuel-efficient and environment-friendly vehicles while cutting on India's huge import bills."
Sumant Sinha, CMD, ReNew Power
"It is a growth oriented and forward looking Budget. The Finance Minister's focus on healthcare, infrastructure, power and the financial sector will have a positive, broad based impact on the economy. By increasing capex spending significantly without hiking taxes, and instead focusing on expanding economic activity, the FM has set the groundwork for a sharp and sustained economic recovery over the next several years."
Nithyanandam Yuvaraj Dinesh Babu, Team Leader, SUPRABHA
"Delighted that the Budget has addressed and emphasized on Renewable Energy, Clean Air and Environment in an emphatic manner. Extension of PM-KUSUM scheme (solarization of agricultural pumps), allocation of funds for SECI and IREDA, formation of Comprehensive National Hydrogen Energy Mission, promoting domestic solar manufacturing in a phased manner, Expansion of Ujjwala (clean cooking), enabling framework for consumers to chose DISCOMs (may lead to consumer choosing Greener DISCOM) are commendable initiatives and will adequately boost investors' confidence in Indian Renewable Energy journey."
Jaideep N. Malaviya, Secretary General, Solar Thermal Federation of India
"An aggressive plan should be put in place to accelerate Solar cities programme by attracting Rooftop solar power and solar water heating taking advantage of INR 2,217 crore allocation to clean air pollution in cities and INR 1,000 crore for Solar energy. Noteworthy most of the polluted cities are also classified as Solar cities. The 7 mega textile parks will also increase demand for heat. Solar energy can supplement the requirements."
Anil Chaudhry, CEO, Schneider Electric India
"With its extensive focus on infrastructure and healthcare, the Budget FY21-22 clearly focuses on reviving the economy. The key pillars such as health and wellbeing, capital and infrastructure, inclusive development, enhancing human capital, innovation and R&D and minimum government and maximum governance rightly identifies the core areas for sustained growth and provides considerable thrust towards an Atmanirbhar Bharat. The emphasis on further expanding the National Infrastructure Pipeline by creating dedicated financial institution, monetizing operating assets, and raising the share of capital expenditure in central and state budgets is commendable.
The proposal to offer more choice to consumers by introducing competition in the power distribution space by kick-starting Rs 3 lakh crore reforms-based result-linked power distribution sector scheme for state power distribution companies is likely to address the long hanging Transmission & Distribution (T&D) issues and give relief to the power producers, thereby ensuring health for the entire value chain. It is also good to see the government's focus towards ensuring smart metering, which will help cut the commercial losses in power distribution.
Further, the proposal to double the MSME allocation with Rs 15,700 crore for medium and small enterprises in FY22 will give the necessary push to the sector.
Considering that India is well poised to play an important role in the global supply chain, the PLI scheme in 13 sectors to create manufacturing global champions for an Atmanirbhar Bharat is expected to play a crucial role. This will encourage growth in these sectors, apart from creating ample employment opportunities for the youth. Overall a growth oriented budget to support the Indian economy to bounce back in the post COVID world."
Mahesh Palashikar, President & CEO, GE- South Asia
"For the Power and Renewables sector, the announcement of the hydrogen energy mission as well as enabling electricity connections portability to consumers further demonstrate India's commitment to renewable energy and technology interventions that can make power generation and distribution more efficient and cost effective. Another positive is the allocation for National Research Foundation aimed at promoting local innovation. Overall the Budget has provided a strong foundation for long-term sustained economic recovery."
Dinesh Patidar, Chairman & Managing Director, Shakti Pumps India Ltd
"In this budget visionary approach has been adopted, health services have been given more emphasis keeping in mind the circumstances arising out of pandemic like COVID-19. The basic need of almost all sectors has been taken into consideration. Emphasis has been laid on making the complex taxation process easier and simpler. Steel and copper prices which are going up unnecessarily, to curb on it Custom Duty has been reduced by 2.5% and 20% Custom Duty has been imposed on solar inverter, realizing the dream of Make in India along with making Indian power electronics units self-sufficient is a welcome step. This time most of the focus is on the formation of a regulatory institution, So that the functioning of those organizations can be made smoother. Financial assistance given to financial institutions has made to make contribution more supportive in development. One expected & necessary thing in budget, change in taxation for middle class is missing. Going forward we expect more reforms in GST through mini budgets. Overall, this budget will prove beneficial for the improvement of the far-reaching economy."
Kush S, CEO, Essar Power
"In a highly anticipated move our Honourable FM announced a Rs 3,05,984 crore scheme to reform the power distribution sector in the country. T&D losses have plagued the Power sector for a number of years and this scheme will surely help reduce losses and improve efficiency of electricity distribution companies (discoms). The proposed amendments and Electricity (Amendment) Bill, 2021 with measures such as 'de-licensing' of the power distribution business to bring in competition is a very consumer centric move which aims at creating a level playing field for all distribution companies. The Rs 1,000 crore grant for the growth of the Solar Energy sector and Rs 1,500 crore to the Renewable Energy sector is also a welcome move and will help the country in achieving the ambitious target of 175 GW of renewable energy capacity by the year 2022. These measures and reforms will definitely help improve the health of the sector and enhance growth in the coming few years."
Jaideep Mukherji, Chief Executive Officer, Smart Power India
"The budgetary allocation of Rs 3.05 lakh crore for the power sector, in principle, is expected to help the sector upgrade its infrastructure and address the challenges, especially at the distribution level. The proposal to create a framework for the distribution space, once implemented, will promote healthy competition among DISCOMs and help the consumers have access to multiple service providers to choose from with an improved focus on traditionally weak areas such as metering, billing, collection, and grievance redressal. In short, the financial outlay of Rs 3.05 lakh crore and the proposed framework may likely enhance access to the reliable power supply and spur economic activities in underserved rural communities in India."
Ashvin Patil, Director and Founder, Biofuels Junction Pvt Ltd
"The allocation to the clean energy sector is a big support to the solar energy sector, which shows that the government clearly intends to promote the clean energy sector. The rural development infra fund where the allocation is up by 34% supports the biofuel industry which typically originates from agriculture waste and also provides good incentives to the cotton farmers. There is also an ease of doing business where tax audit has been raised to Rs 10 crore which will definitely support the small entrepreneurs where the compliance will be much lower. Lastly, the Agri infra development sales, which is levied on petroleum, diesel and coal making them more expensive than biofuels thus making it beneficial for the sector. I think overall it's a good budget and we look forward to its implementation."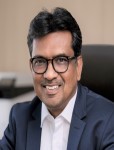 N Venu, Managing Director - Hitachi ABB Power Grids in India
"The Union Budget 2022 covered areas that will have a multiplier effect and create long-term opportunities for India and India Inc. As a player in the power industry, we appreciate the focus on capital expenditure, education and research, and bank recapitalization.
The announcement to expand the national infrastructure pipeline as well as reinvigorate the textile sector through textile parks will create jobs and further push infrastructure development. We see a major opportunity for power sector players here as the need for reliable electricity will be necessitated for uninterrupted operations.
Besides, the proposal to monetize transmission assets will expedite infrastructure creation and even channel in more funds for further investment. This may also open operation & maintenance in these assets to private players. Additionally, we see the INR 2,500 cr funding to promote renewables and the push for a Hydrogen Energy Mission from green power sources as good news in the longer run for the power sector.
Additionally, competition in power distribution can help ensure performance-based assistance totaling INR 3 lac crore for DISCOMs doesn't become a redux of Uday 2.0. The industry will parallelly need to adapt to the higher duties on solar cells while also balancing the continued GST slabs.
Focus on building freight corridors, a record outlay for future-ready railway system and electrifying 46,000 RKM by this year are much appreciated and are positive announcements for us. They will create the need for modern and reliable power infrastructure. Yet the timeline for 100% electrification by December 2023 may prove challenging unless government and industry work in close collaboration.
Besides, attention on urban transportation through metro rail and city bus services can become steps towards our clean energy transition goals, if there is greater emphasis on mass electric transportation. There was no mention of National Electric Mobility Mission plan 2020, and extension of capital subsidies under FAME. We were also hoping to see the inclusion of e-mobility infrastructure and other ancillary power supply chain in the PLI scheme to give the desired push to Self-Reliance. "
Anish De, Partner and National Head, Energy and Natural Resources, KPMG in India
"Hon'ble FM announced introduction of framework for promoting competition in power Distribution - As the Discoms operate as regional monopolies in their respective area of supply, this framework will bring in private players and improve operational efficiencies, which will benefit consumers, by providing them choice for supplier selection. This proposal has been in works for 6 years, when the Electricity Amendment Bill 2014 was tabled. The recent Electricity Amendment Bill 2020 excluded this provision, and therefore it's a welcome step.
To improve the sustainability of financially ailing Discoms, FM has announced a budget of Rs 3.05 lakh crore for revamped Discom performance improvement scheme - This will be linked to financial improvements and will include expenditure on infrastructure, including prepaid smart metering, feeder segregation, upgradation of systems etc. Last such scheme (UDAY) was launched in 2015. Revamped scheme will be helpful in financing continued reforms focused on Discom sustainability and will benefit consumers and industry alike.
Apart from this FM also announced monetisation of PGCIL's transmission assets worth Rs 7,000 crore through InvIT sponsored by PGCIL - It will be an important and first of the kind step in power sector which will help monetize operational assets and channelise freed up capital into greenfield power sector projects."
Sumit Joshi, President, ELCOMA and Vice Chairman and Managing Director, Signify Innovations India Ltd
"The Union budget this year is dedicated to resetting and rebuilding a sustainable economy with an emphasis on promoting local manufacturing. The increased focus on infrastructure and renewable energy, especially solar energy is a welcome move for our sector. However, the government's decision to increase the tariff on inputs and parts used for manufacturing of LED lighting products will result in a price increase for locally manufactured lighting products in the short term, as currently almost all electronic components are imported from abroad due to lack of a local component ecosystem in India. This move might support the industry in the long term, once the component manufacturing ecosystem in India becomes more established. Even as prices of locally manufactured goods will go up, the tariffs on finished good has remained unchanged. As ELCOMA, we will go back to the government to address this urgently by correspondingly increasing the tariff on finished goods as well for this category, in order to support local manufacturers in the true spirit of India becoming Aatmanirbhar Bharat."