Featured news
Energy news
Tata Power does World's largest solar rooftop installation on a cricket stadium in Mumbai.
Tata Power does World's largest solar rooftop installation on a cricket stadium, at Cricket Club of India, Mumbai through its Solar arm....
---
WindEnergy Hamburg presents the greatest range for global offshore wind.
WindEnergy Hamburg, the world's leading expo, presents the greatest range for global offshore – number of offshore wind farms is growing.
...
---
CLP's Veltoor Plant in India Gains World's First Solar Project Certification from DNV GL
CLP Holdings Limited is pleased to announce Veltoor Solar Farm in India has received from DNV GL, a global quality assurance and risk management company, the world's first project certificate fo...
---
ReNew Power successfully commissions 126 MW of the first reverse wind auction in India.
ReNew Power Limited, India's largest renewable energy IPP in terms of total energy generation capacity*, today announced the successful commissioning of Phase 1 (126 MW) of its 250 MW wind proje...
---
Government of India and World Bank sign $300 Million Agreement to help India energy program.
The Government of India, the Energy Efficiency Services Limited (EESL), and the World Bank today signed a $220 million Loan Agreement and a $80 million Guarantee Agreement for the India Energy Effici...
---
Global experts on Solar and Storage called on by PM of India for affordable Solar power for all
Global experts on Solar and Storage called on by Prime Minister Narendra Modi for inputs on affordable solar power for everyone....
---
Rays Power Infra forays into the retail solar power segment through its group company.
After making a successful foray in the B2B solar power segment and commissioning projects over 650 MW, Rays Power Infra, one of India's leading solar power development and EPC companies, has now...
---
MYSUN commissions 397kW and 104kW rooftop solar projects in Rajasthan.
MYSUN, India's leading online rooftop solar platform; specializing in end-to-end solar power solutions and services, has expanded its operations in Rajasthan with notable commissioning of two so...
---
Articles
Power Ministry Updates
The article collates the updates and announcement from India's Ministry of Power....


Energetica India
---
IEX celebrates first successful decade of operations
Presently, the exchange has 6000+ participants registered across electricity, REC and ESCert segments comprising distribution utilities, generators, large consumers and several renewable energy genera...


Energetica India
---
India's Power Targets for 2018-19
A generation programme is prepared by CEA based on the actual generation by the stations during previous years, maintenance schedule furnished by the stations for the year 2018-19 and anticipated new ...


Energetica India
---
Events
Municipalika - 15th edition of Smart & Sustainable City Solutions
Date: 2018-09-19
Venue: Bombay Exhibition Centre, Goregaon East, Mumbai, India, MUMBAI ( India);
---
Date: 2018-09-18
Venue: India Expo Centre, Greater Noida, India, Greater Noida ( India);
---
Interviews
Energetica India catches up with Ms.Sweety Arya ,Marketing Manager, Ningbo Ginlong Technologies
Sweety Arya - Marketing Manager-India (Ningbo Ginlong Technologies)
---
PREMIUM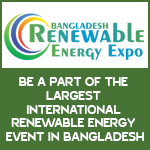 This message and any attachments are confidential and privileged and intented for the use of the addressee only. If you have received this communication in error, please notify the sender by replay e-mail and delete this message from your system. Please note that Internet e-mail guarantees neither the confidentiality nor the proper receipt of the message sent. The data deriving from our correspondence with you are included in a file of OMNIMEDIA, S.L. which exclusive purpose is to manage the communications of the company; under the understanding that, in maintaining said correspondence, you authorize the treatment of such data for the mentioned purpose. You are entitled to exercise your rights of access, rectification, cancellation and opposition by addressing such written application to address C/ ROSA DE LIMA, 1 BIS 104 EDIFICIO ALBA de LA MATAS (28290 - MADRID) enclosing your NIF or identifying document photocopies of.
Unsuscribe click here