Featured news
BNEF: Solar energy investment set to fall in 2018.

A mixed picture for global clean energy investment in 2018 is emerging, with dollar investment in solar under pressure while commitments to wind power and energy smart technologies such as electric ve...

Energy news
Maharashtra State Chooses Mytrah Energy for Wind Power Supply
Mytrah Energy (India) Pvt Ltd (MEIPL), India's leading independent power producer, has bagged an order for the development of 100 MW wind power project for the Maharashtra State Electricity Dist...
---
JinkoSolar Ranked #278 on 2018 Fortune 500 List
JinkoSolar Holding Co., Ltd., a global leader in the solar PV industry, today announced that it has been ranked #278 on the 2018 Fortune China 500 list, moving 6 positions up from #284 in 2017 rankin...
---
KP Energy & GE India Signs Agreement for 300MW Wind Power Project
KP Energy Limited has informed the BSE that KP Energy Limited and GE India Industrial (P) Limited have signed up definitive agreements for the development of 300MW Wind Power Project (120 Wind Turbine...
---
Further rescheduling of second pre-bid meeting for selecting solar power developers - SECI
Further rescheduling of second pre-bid meeting : selection of solar power developers for setting up of 5gw (per annum) solar manufacturing plant linked with power purchase agreements (ppas) for solar ...
---
Siemens launches performance enhancement for select SGT-800 gas turbines
Siemens has introduced a new SGT-800 performance enhancement that is applicable to all existing SGT-800 units with 43-47.5-MW ratings. The new upgrade is designed to provide owners and operators with ...
---
MNRE issues notice on Quality control order of solar PV systems,devices and component goods.
Notification of "Quality control order of Solar Photo voltaic Systems, Devices and Components Goods" dated 13.07.2018....
---
SECI - further rescheduling of pre-bid meeting for tenders for 2500 MW wind projects
SECI - further rescheduling of pre-bid meeting for tenders for 2500 mw ists-connected wind power projects (tranche-vi)....
---
Articles
The sun can wait: Why growth not equal profits?
We support development and engineering efforts for making nascent technologies available, with qualities and efficiency that surpass today's silicon-based solar technologies performance.Material...


Ricardo G Barcelona, Managing Director of Barcino Advisers
---
Vision to Action : RE in India is walking the talk
It is safe to say the Indian renewable energy sector is the second most attractive renewable energy market in the world. It is expected twenty years from now by the year 2040, around 54 per cent of th...


Mr. Sanjith Sadanand Shetty
---
The Global Off-Grid Solar Market
In 2017, the global off-grid solar (OGS) sector is providing improved electricity access to estimated 73 million households, or over 360 million people, thus transforming lives that were previously re...


Report from the World Bank through its Lighting Global Program
---
Events
Municipalika - 15th edition of Smart & Sustainable City Solutions
Date: 2018-09-19
Venue: Bombay Exhibition Centre, Goregaon East, Mumbai, India, MUMBAI ( India);
---
Date: 2018-09-18
Venue: India Expo Centre, Greater Noida, India, Greater Noida ( India);
---
9th World Renewable Energy Technology Congress & Expo 2018
Date: 2018-08-21
Venue: Pravasi Bhartiya Kendra, Chanakyapuri, New Delhi, India, Delhi ( India);
---
Interviews
Energetica India speaks with Mr.Sven Kramer, Vice President Sales - teamtechnik
Mr.Sven Kramer - Vice President Sales - Solar Technology (teamtechnik)
---
PREMIUM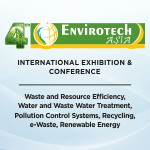 This message and any attachments are confidential and privileged and intented for the use of the addressee only. If you have received this communication in error, please notify the sender by replay e-mail and delete this message from your system. Please note that Internet e-mail guarantees neither the confidentiality nor the proper receipt of the message sent. The data deriving from our correspondence with you are included in a file of OMNIMEDIA, S.L. which exclusive purpose is to manage the communications of the company; under the understanding that, in maintaining said correspondence, you authorize the treatment of such data for the mentioned purpose. You are entitled to exercise your rights of access, rectification, cancellation and opposition by addressing such written application to address C/ ROSA DE LIMA, 1 BIS 104 EDIFICIO ALBA de LA MATAS (28290 - MADRID) enclosing your NIF or identifying document photocopies of.
Unsuscribe click here