Featured news
Energy news
SECI - Rescheduling of pre-bid meeting for tender for 2000 mw ists-connected wind power project
SECI - Rescheduling of pre-bid meeting for tender for 2000 mw ists-connected wind power projects (tranche-v)...
---
Results Of E-Bidding And E-RA For 2000 MW ISTS-Connected Wind Power Projects (Tranche-IV)
Results Of E-Bidding And E-RA For 2000 MW ISTS-Connected Wind Power Projects (Tranche-IV)...
---
Tata Power Renewable Energy wins 150 MW Solar PV project in Maharashtra.
Tata Power, India's largest integrated power company, today announced that its 100% subsidiary Tata Power Renewable Energy Ltd. (TPREL) has won a 150 MW Solar PV project on the long term basis i...
---
A new market is arising in Germany – for mini solar plants.
Since the end of 2017 you can operate your own mini solar plants. Other European countries, such as Switzerland, Portugal or Germany paved the way for the new regulations....
---
UK Climate Investments partnership to drive innovation in Indian renewables sector.
Fortum and Elite Alfred Berg (EAB) have entered into a partnership with UK Climate Investments (UKCI) that will introduce a new asset class into the Indian renewables market....
---
Azure Power Wins Largest Solar Power Project (75 MWs) in Northeast India
Azure Power, one of India's leading independent solar power producers, announced that it has won the largest (75 MWs) solar power project in the North Eastern region of India....
---
IHS Markit reports China's solar policy change triggers another cycle of price pressure.
China's solar policy change triggers another cycle of price pressure and industry consolidation, but global demand fundamentals remain strong....
---
All meters to be smart prepaid in 3 years', says Power Minister
The Power Minister advised the manufacturers to scale up the manufacturing of smart prepaid meters as the demand would be huge in coming years. The Minister also advised the officials of the Ministry ...
---
Shri R K Singh chairs 'Review, Planning and Monitoring Meeting' with States and Power Utilities
Minister of State(IC) for Power and New & Renewable Energy, Shri R K Singhchaired the 'Review, Planning and Monitoring (RPM) Meeting' with the Secretaries of Power/Energy Departments o...
---
Articles
Flexibility in Generation & Scheduling of thermal power stations to reduce emissions
The concept of flexible utilization of coal as introduced by the Central Government in year 2016, allows the use of coal within its basket in optimal manner. This avoids unnecessary coal transportatio...


Energetica India
---
The Global Off-Grid Solar Market
In 2017, the global off-grid solar (OGS) sector is providing improved electricity access to estimated 73 million households, or over 360 million people, thus transforming lives that were previously re...


Report from the World Bank through its Lighting Global Program
---
Energetica India
"India has one of the fastest growing energy markets and we will continue to grow in the foreseeable future. Electricity will play a larger role in the future energy chain in India as we will mo...


"Transformation of Utilities", World Utility Summit, Elecrama 2018
---
Events
Date: 2018-06-20
Venue: Messegelaende 1, Munich ( Germany);
---
Electric Vehicle India Summit 2018
Date: 2018-06-18
Venue: The Leela Ambience Convention Hotel, New Delhi, New Delhi ( India);
---
Interviews
Energetica India speaks with Mr.Sven Kramer, Vice President Sales - teamtechnik
Mr.Sven Kramer - Vice President Sales - Solar Technology (teamtechnik)
---
PREMIUM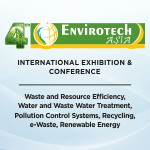 This message and any attachments are confidential and privileged and intented for the use of the addressee only. If you have received this communication in error, please notify the sender by replay e-mail and delete this message from your system. Please note that Internet e-mail guarantees neither the confidentiality nor the proper receipt of the message sent. The data deriving from our correspondence with you are included in a file of OMNIMEDIA, S.L. which exclusive purpose is to manage the communications of the company; under the understanding that, in maintaining said correspondence, you authorize the treatment of such data for the mentioned purpose. You are entitled to exercise your rights of access, rectification, cancellation and opposition by addressing such written application to address C/ ROSA DE LIMA, 1 BIS 104 EDIFICIO ALBA de LA MATAS (28290 - MADRID) enclosing your NIF or identifying document photocopies of.
Unsuscribe click here