Featured news
Energy news
BP invests in ultra-fast charging battery company StoreDot.
The number of electric vehicles (EVs) worldwide is growing rapidly and BP is working across the supply chain to support the development of the technologies and infrastructure required to support that ...
---
REC Group extends their global Solar Professional Program in India.
The REC Solar Professional Program is one of two platforms of support for the company's partners in India and around the world. The REC Global Partner Program provides distributors with a range ...
---
Trina Solar acquires Nclave.
TSolar Limited, a leading total solutions provider for solar energy, announced that it has successfully acquired a majority stake in Spain-based Nclave Renewable S.L. ("Nclave"), the world's...
---
E-buses to surge even faster than EVs as conventional vehicles fade.
The electrification of road transport will move into top gear in the second half of the 2020s, thanks to tumbling battery costs and larger-scale manufacturing, with sales of electric cars racing to 28...
---
Prime Minister inaugurates Kishanganga Hydroelectric Project.
Prime Minister inaugurates Kishanganga Hydroelectric Project; lays Foundation Stone of the Pakal Dul Power Project in Jammu & Kashmir.Both Projects to bring immense benefits to the people of J&amp...
---
JinkoSolar Speaks about Green Development along Belt and Road Initiative .
JinkoSolar Speaks about Green Development along Belt and Road Initiative at the Global Challenges Summit....
---
SolarEdge acquires UPS supplier Gamatronic - IHS Markit
SolarEdge acquires UPS supplier Gamatronic, signaling race for PV inverter suppliers to diversify business models....
---
'National Biofuel Policy' to boost India's bio-power sector.
The National Policy on Bio-fuels, approved by the Union Cabinet recently, will provide a huge impetus to the small but growing bio-energy sector in India....
---
Market Wire: Depreciating Rupee to Pose Challenges to Economical Solar Tariffs.
India Ratings and Research (Ind-Ra) believes depreciating rupee, if unhedged, will impact investor returns in bid solar power projects in the event of a significant exchange rate variation between the...
---
Articles
Cheap Renewables
As renewable capacity increases, economies of scale kick in and prices fall further, compounded by technological improvements, availability of cheaper financing, and ambitious targets by governments w...


Institute for Energy Economics and Financial Analysis (IEEFA).
---
Offshore Wind – A Decade Away for Tamil Nadu
Tamil Nadu and Gujarat have been identified as the two key coastal markets with the best offshore wind resources. A prerequisite for offshore wind is the need to build a whole new supply chain and inf...


Institute for Energy Economics and Financial Analysis (IEEFA)
---
India's Solar Sahelis, an IFC Case Study
This article briefly outlines the details of the case study carried by International Finance Corporation (IFC) to develop a network of women entrepreneurs known as Solar Sahelis....


IFC Case Study
---
Events
Date: 2018-05-28
Venue: Shanghai, China, Shanghai ( China);
---
4th Smart Cities India 2018 Expo
Date: 2018-05-23
Venue: Pragati Maidan,New Delhi, New Delhi ( India);
---
PREMIUM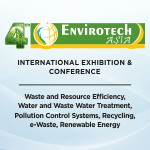 This message and any attachments are confidential and privileged and intented for the use of the addressee only. If you have received this communication in error, please notify the sender by replay e-mail and delete this message from your system. Please note that Internet e-mail guarantees neither the confidentiality nor the proper receipt of the message sent. The data deriving from our correspondence with you are included in a file of OMNIMEDIA, S.L. which exclusive purpose is to manage the communications of the company; under the understanding that, in maintaining said correspondence, you authorize the treatment of such data for the mentioned purpose. You are entitled to exercise your rights of access, rectification, cancellation and opposition by addressing such written application to address C/ ROSA DE LIMA, 1 BIS 104 EDIFICIO ALBA de LA MATAS (28290 - MADRID) enclosing your NIF or identifying document photocopies of.
Unsuscribe click here