Featured news
MNRE issues National Wind-solar Hybrid Policy.

Ministry of New and Renewable Energy has issued National Wind-Solar Hybrid Policy here today. The objective of the policy is to provide a framework for promotion of large grid connected wind-solar PV ...

Energy news
SolarEdge Enters UPS Market with Agreement to Acquire Gamatronic, a UPS Technology Leader.
SolarEdge Technologies, Inc., a global leader in smart energy, announced today that it will enter the field of Uninterruptible Power Supply (UPS) by signing an asset purchase agreement with Gamatronic...
---
HPL Electric & Power Ltd. provides Smart Lighting solutions for Bhopal Smart City Project.
HPL Electric & Power Ltd, an established electric equipment manufacturing company in India has installed complete smart lighting solutions in Bhopal to support the Government of India's Smar...
---
MNRE issues Scheme to Support Promotion Of Biomass Based Cogeneration in sugar-mills.
MNRE issues Scheme to Support Promotion Of Biomass Based Cogeneration In Sugar Mills And Other Industries In The Country (Up To March 2020).
...
---
India ratings & Research:Import Duty Waiver to Reduce Quoted Solar Tariffs by 10-12 paisa/unit.
The reversal of the applicable 7.5% import duty on solar modules can reduce the quoted solar tariffs by 10-12 paisa/unit to INR2.60-2.62/unit in upcoming auctions, at least for strong counterparties s...
---
Global alliance for summit meeting of the wind industry,GWEC is a partner at Global wind summit
The Global Wind Summit 2018 in Hamburg is pleased to have the Global Wind Energy Council (GWEC) as its Partner. The Global Wind Summit is the world's biggest and most important meeting of the wi...
---
One Mega Event 2018 to deliver women and girls the tech keys to empowerment.
At One Mega Event 2018, find out how mobile and futuristic technologies, and intelligent mobility in smart cities can tackle gender-based harassment and violence in public spaces.The expo will be held...
---
Renewable Energy Jobs Reach 10.3 Million Worldwide in 2017.
The renewable energy industry created more than 500,000 new jobs globally in 2017, a 5.3 per cent increase from 2016, according to the latest figures released by the International Renewable Energy Age...
---
Eastman's maintenance-free gel batteries making a mark in energy storage market.
The gel batteries manufactured by Eastman Auto and Power Limited, a leading company in the energy storage segment and solar solutions, are making a mark in the power backup market and are gradually re...
---
Progress on Global Energy Goals Slow, but Strong Gains in Countries Show Promise.
The world is not on track to meet the global energy targets for 2030 set as part of the Sustainable Development Goals, but real progress is being made in certain areas – particularly expansion o...
---
Articles
Solar – Lighting Up Rural India
Renewable energy-based mini-grids can boost small businesses, create local jobs and build economies thus improve living standards in villages. This in turn will ensure women's empowerment, bette...


Mr. Sanjith Sadanand Shetty,Vice Chairman and Managing Director,Soham Renewable Energy India Private Limited
---
India's Solar Sahelis, an IFC Case Study
This article briefly outlines the details of the case study carried by International Finance Corporation (IFC) to develop a network of women entrepreneurs known as Solar Sahelis....


IFC Case Study
---
Lakshadweep Joins "UDAY" Scheme
The Government of India and the Union Territory of Lakshadweep have signed a Memorandum of Understanding (MoU) under the Scheme Ujwal DISCOM Assurance Yojana (UDAY) for operational turnaround of the u...


Energetica India
---
Events
Municipalika - 15th edition of Smart & Sustainable City Solutions
Date: 2018-09-19
Venue: Bombay Exhibition Centre, Goregaon East, Mumbai, India, MUMBAI ( India);
---
4th Smart Cities India 2018 Expo
Date: 2018-05-23
Venue: Pragati Maidan,New Delhi, New Delhi ( India);
---
PREMIUM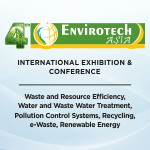 This message and any attachments are confidential and privileged and intented for the use of the addressee only. If you have received this communication in error, please notify the sender by replay e-mail and delete this message from your system. Please note that Internet e-mail guarantees neither the confidentiality nor the proper receipt of the message sent. The data deriving from our correspondence with you are included in a file of OMNIMEDIA, S.L. which exclusive purpose is to manage the communications of the company; under the understanding that, in maintaining said correspondence, you authorize the treatment of such data for the mentioned purpose. You are entitled to exercise your rights of access, rectification, cancellation and opposition by addressing such written application to address C/ ROSA DE LIMA, 1 BIS 104 EDIFICIO ALBA de LA MATAS (28290 - MADRID) enclosing your NIF or identifying document photocopies of.
Unsuscribe click here