Magazine
Women Power
Energetica India highlights only some of the well-known women in India's energy sector in an attempt to recognise women power in the industry.
August 16, 2018. By Moulin
POWER SECTOR
Women Power
Energetica India
Energetica India highlights only some of the well-known women in India's energy sector in an attempt to recognise women power in the industry.
Energy is an evolving industry constantly trying to keep up with the continuously growing demand and supply of power to homes, schools, hospitals and workplaces. With so many challenges, there is a call for innovative approaches, which is why diversity is so important. There are many studies which evidence that the more diverse a group, the quicker and easier it'll be to identify and solve problems. More diverse groups are better placed to not only tackle various challenges, but also create a competitive advantage by encouraging businesses to consider new methods and practices.
Diversity isn't just a gender issue; it's a business-critical issue. According to the World Economic Forum, despite its rapid growth in many countries, energy is one of the sectors in which women are least present, along with software and IT services, manufacturing, and mining. Women represent just 16 percent of board members in the top 200 power utilities, and few women have access to the sort of education and support systems that would allow them to pursue careers in energy.
The Indian power sector is not different, being male-dominated with men making up more than 75 percent of the workforce, according to some estimates. Women are under-represented in the energy and power industry – but that doesn't mean they are not there. The number of women in the industry may be small, but it is growing, and they have a great track record across the industry.
Energetica India highlights only some of the well-known women in India's energy sector in an attempt to recognise women power in the industry.
Dr. Kinjal Jani, Managing Director, Kanoda Energy Systems Pvt. Ltd.
Achievements:
During her doctorate research, Dr.Jani developed the first working prototype of the Electromagnetic Aircraft Launching System (EMALS), which was funded by the US Navy. Dr.Jani was the youngest candidate to receive a Ph.D. in her batch. Today her work is replacing conventional steam catapults on US aircraft carriers.
During her work with Siemens, Dr.Jani worked on method of starting a synchronous motor with a brushless DC exciter and have a patent for the same – US Patent No. 7,977,910 B2.
At Kanoda, Dr.Jani has developed the solar photovoltaic (PV) engineering, procurement and construction (EPC) vertical from scratch, and her rooftop PV installations are among the highest 'per-kilowatt' generating systems in the state of Gujarat.
Professional area of expertise:
Electrical & Power Electronics Engineering
Education:
Ph. D. in Electrical Engineering from University of South Carolina, Columbia
Work Experience:
Chief Technology Officer at Suvik Electronics Pvt. Ltd. Gandhinagar
Sr. Systems Engineer at Siemens Energy & Automation Inc., Pittsburgh USA
Sr. Product Engineer at Siemens Energy & Automation Inc., Pittsburgh USA
Graduate Research Assistant at Department of Electrical Engineering, University of South Carolina, Columbia USA
Priyanka Mohan, Director, Kor Energy India Pvt Ltd
Achievements:
Leading one of the fastest growing solar EPC Companies
Created a brand with focus on quality, timely executions and cost control
Professional area of expertise:
Business Development
Management and Control
Education:
Post Graduate in Management
Work Experience
Co-Founder Kor Capital,
Home 121 Solutions,
SaarthakSaarthi Foundation
MirunaliniVenkatagiriChellappan, Director, Swelect Energy Systems Ltd
Achievements:
Product Development:
Release of a very unique Hybrid Energy Monitoring System that is compatible with all kinds of installation upto 10 kW. This helps in measuring the energy saved, the cost saved and the carbon footprint that was avoided.
Design and Development of Solar Power Converters to suit the Indian Market conditions and for export market.
Release of Bidirectional Inverter (with grid feed-in), first of its kind to be designed and developed completely in India.
Release of High MPPT Efficiency Solar Charge controller at 12 – 120 V, 3 kW capacities suitable for all range of Solar Inverters.
Projects:
Design, Engineering and Installation of South India's very first tracker based solar power system – 1 MW Solar Power plant at Kuppepaylam, Coimbatore – a state of the art power plant, a center for excellence and training with 500 KW of Fixed tilt First Solar CdTe Film, 500 kW of high efficiency Sunpower tracker system and 50 KW of Thin Film Solar Frontier system. Commissioned in May 2012.
Design, Engineering and Commissioning of 15 MW Solar Power plant at Vellakoil at a record speed of 80 days. Was hands on and stayed at site for the entire period to monitor and build the project from scratch.
Study and Analysis of cost reduction and optimisation methods in the Solar system installation to enable better power availability at optimal price for the customer. Helped in bringing down the BOM cost by over 15% through optimal designing and better sourcing.
PV Module Division:
Helped turn around the company from a sick unit to a better performing one
Helped streamline the supply chain management and reduce the cost of the modules and be more competitive in the market
Reduced various overheads in the company and brought down the overall expenses by innovative steps, thereby further bringing down the module cost to near market price
Pushed HHV Solar to achieve the highest turnover and sales volume since inception
In process of expanding the plant to double its capacity
Professional area of expertise:
Products
Projects
Sourcing
Education:
B.E (EEE), College of Engineering, Guindy
M.S (EE - Power Electronics), Texas A&M University
Work Experience:
Engineer – Product Development, HHV Solar
Assistant Vice President – Products &Spl Projects, HHV Solar /Swelect Energy
RajashriNagarkar, GM Operations, Meyer Burger India Pvt Ltd.
Achievements:
Implementation of SAP, CRM and processes
Professional area of expertise:
Systems and processes
MIS
Operations
Education:
Electronics Graduate with MBA -Systems
Work Experience:
GM at Baldor Electric India Pvt Ltd
Manager Systems at Inteltek Automation Pvt Ltd
Meenakshi Chaudhary, Advisor, Marketing Communication and CSR, Vikram Solar Limited
Achievements:
TOC Champion for Rooftop and EPC

Implemented SOP for Rapid Margin Improvement protocol for an effective project initiation
WIP packages workflow framework– overall average system (includes all projects) flow rate of packages improved from 0.8 to 2.94 packages/ month
Material tracker workflow framework - ageing monitored across workflow; overall system ageing reduced from ~128 days to ~44 days till date
Site execution workflow framework - deployed across all projects allowing for reduction in project timeline by 15 days across a 200MW project; saving on Project Overheads and Working Capital
Overall TOC implementation – 5/13 blocks deployed & confirmed as completed & 4/13 in WIP; rest will be initiated

Mastered the Franklin Covey's 7 Habits of Highly Effective People
Six Sigma Project Savings of 10-15% cost reduction across a 1GW module manufacturing unit
Business Woman of the Year Award - YFLO Kolkata 2018
Professional area of expertise:
Education:
B.Com (Hons)
Six Sigma Green Belt
Certified in Digital Marketing
ShubhraMohanka, Director, Gautam Solar Pvt Ltd.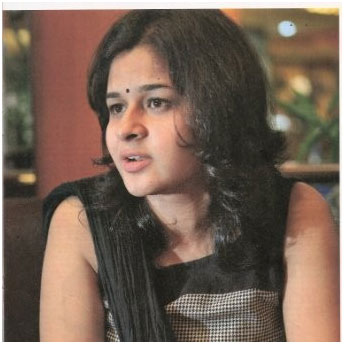 Achievements:
Led the growth of Gautam Solar from a components supplier to a leader in distributed solar with cumulative 20 MW projects in solar off grid comprising of solar pumps, solar street lights , rooftop solar power plants.
Instrumental in journey of Gautam solar, an innovative technical company, to become the only vertically integrated solar off grid company manufacturing solar panels, solar battery , solar electronics and structure
Professional area of expertise:
Strategy, Business Development and Project Management
Managing MW projects
Education:
Science graduate from prestigious St. Stephens College, New Delhi
Work Experience:
HCL Technologies (Infrastructure Services Division)
Asian Paints
Citibank India
Nidhi Gupta, Co-Founder and Director, Rays Power Experts Pvt. Ltd.

Achievements:
Rays Experts achieved INR 800+ crore this financial year, within its seven years of its inception
In addition to the finance responsibilities, Nidhi also looks after the on-ground activities like fields projects, constructionwork etc. to ensure smooth execution of the projects. Her courage andmotivation keeps the entire team of 250 people at Rays Experts upbeat and on their feet
She manages another independent company where she supervises the vendors and labourers and has channelized more than 300 hands to Rays for its project executions
Her aim is to see Rays Experts among the top Indian Companies leading theindustry in the coming years. She strives to make it the largest solar companyin India by creating the world's most expansive solar plants.
Professional area of expertise:
Finance and Business Management
Education:
Computer engineering from IIMET, Jaipur
SwaralipiMaity, DGM, Sukhbir Agro Energy Ltd
Achievements:
Heading roof top division team at SAEL. Have immensely contributed in the training and development of our robust sales and project team
Introduced SAEL as an IPP for roof top segment
Professional area of expertise:
Marketing
Liasoning
Leading Sales Team
Project Development
Education:
Work Experience:
Jain Irrigation System Ltd, Sr. Manager
Close to a decade of experience in renewable energy
KanikaKhanna, Chief Technical Officer & Director, Sunkalp Energy
Achievements:
Established the solar unit for BD Khanna Estates Pvt Ltd
Grew the solar business at 200% YoY
Professional area of expertise:
Education: Masters of Engineering in Manufacturing
Work Experience
Quality Engineer and Sr. Systems Integration Engineer with Cummins Engine Company, USA
RituLal, Sr. VP and Head – Institutional Relations, Amplus Solar
Achievements:
Representing Amplus and rooftop/distributed solar at all important policy forum – FICCI, CII, PHDCCI, MNRE meetings
Part of Indian delegation IGEF that visited Germany in Oct 16
Sharing perspectives at solar and energy conferences – World Energy Congress, Industry body events, TERI, NISE, ISA
Guest training faculty on adoption of rooftop solar at NISE international training programs – have trained people from over 50 countries – Asia, Africa, Europe, North and South America
Professional area of expertise:
Her experience and skill sets give her a unique understanding of customer requirements and expectations. She is representing Amplus at all important policy forum and responsible for Institutional Relations.
Education:
MBA, Faculty of Management Studies
Work Experience:
Ritu has over 20 years of rich and varied experience
She has worked in the FMCG and Pharmaceutical sectors. Her past employers include GlaxoSmithKline and DSM.
She has diverse geographical exposure – other than India, she has worked in Europe, and has also been responsible for the Asia-Pacific, Middle-East & Africa regions.
She has worked extensively in Purchasing and Supply Chain, and has had substantial stints in Finance, HR, Facilities Management and Administration.
KanikaChawla​, Senior Programme Lead, Council on Energy, Environment and Water​
Achievements in current role or previous roles:
Co-founded the Clean Energy Finance Initiative for India to mobilise finance at scale
Convened a High Level Working Group on Renewable Energy Finance and Policy
Designed Roadmaps for India's solar and wind targets
Conceptualised a National Bioenergy Mission for India
Co-author of the IRENA RE Map 2030 report for India
Designed support on country roadmap templates
Co-designed the multi-country Common Risk Mitigation Mechanism
Partnered with the Government of India on showcasing India's climate actions at COP
Founder of the CEEW Women in Sustainability initiative
Co -author and project and community manager of the REN21 Renewables Global Status Report
Professional area of expertise:
​Renewable Energy,
Climate Governance and Diplomacy,
Public Policy​
Education :
​M.Sc. Economics and Development Economics (University of Nottingham)
B.A. Honors Economics, Miranda House, University of Delhi
Work Experience:
Junior Policy Advisor at REN21
Program Associate, Communications and Processes, at Avanti Fellows, India
Consultant, Responsible Investment at GIZ GmbH & Global Reporting Initiative
DeepikaMathur, Head of Project Sales & Marketing, Solis Solar LLP
Achievements:
Company sales growing 20% consistent YoY for last 3 years. , spearheading project sales in India
Professional area of expertise:
Sales and Business Development,
Marketing & Communications,
Project sales
Education:
MBA- Marketing
Work Experience:
Business Development Manager with Resonance Global
General Manager- Sales with Greenergy Technologies
Chithra Devi, National Head Marketing & Communication, Socomec Innovative Power Solutions Pvt. Ltd
Achievements:
Chithra leads integrated marketing and communication for Socomec Innovative Power Solutions Pvt. Ltd for India. In her marketing work, she has developed successful marketing strategy for Power Switching, Power Monitoring & Power Conversion products and has helped enhance brand identity. Many of initiatives Chithra leads involve establishing robust marketing strategy based on research and insights into competitor products, running integrated campaigns and enhancing business value through effective management of marketing team. Since starting out as a marketing assistant manager with Socomec in 2008, Chithra has grown significantly in her role and as a national marketing head has successfully brought significant business value through lead generation programs. Examples of her achievement include launching new corporate identity for Socomec, successfully conducting internal and external product launch and expanding companies' product portfolio.
Professional area of expertise:
Chithra Devi brings deep expertise in developing marketing and communication strategy for helping businesses penetrate existing market and identify new geographies to expand. She has led market development and positioning strategy for new products and has administered annual marketing budget across business application, generating maximum growth and profits for each vertical. She also has broad brand development and marketing communication experience including establishing processes for demand generation, cognizing brand development and boosting brand identity.
Work Experience:
Before joining Socomec Innovative Power Solutions Pvt. Ltd, Chithra worked at Ford as a corporate communication coordinator. She structured and coordinated PR programs and lead press conference and media interaction management. During her stint, she has also conceptualized and produced internal communication newsletter and organized media training for all spokespersons.
Kelly Mermuys, Country manager 3E India with focus on business development SynaptiQ solar & wind
Achievements:
Agreements with several leading players in India for our software platformSynaptiQ for the management of their solar and wind portfolios
Framework agreement with Ikea India pvt. Ltd. to guide them as technical consultant to establish the rooftop solar systems on all their upcoming new stores in India for the next 3 years.
Involved in rural electrification projects in India on a personal level. The first school in KatavaramThanda is installed with solar lamps. Another solar school project is in the pipeline. See: https://youtu.be/Iwrk0vvWFU0
Professional area of expertise:
Renewable Energy
Sustainability
Software platforms for the management of solar and wind portfolios
Education:
Master of Bioscience Engineering
Achievements:
Agreements with several leading players in India for our software platformSynaptiQ for the management of their solar and wind portfolios
Framework agreement with Ikea India pvt. Ltd. to guide them as technical consultant to establish the rooftop solar systems on all their upcoming new stores in India for the next 3 years.
Involved in rural electrification projects in India on a personal level. The first school in KatavaramThanda is installed with solar lamps. Another solar school project is in the pipeline. See: https://youtu.be/Iwrk0vvWFU0
Professional area of expertise:
Renewable Energy
Sustainability
Software platforms for the management of solar and wind portfolios
Education:
Master of Bioscience Engineering
GayatriOjha, VP – Marketing & Corporate Communications, CSR, Total India
Achievements:
She leads the CSR practice at Total that contributes to the government's Skill India program and provides sustained employment to under-privileged youth in India by joining hands with NGO Sambhav.
Launched the Auto Technician CSR program at Total where more than 3000 under-privileged youth have been given mechanic vocational training and sustained employment
Launched two key branded content properties at Total – Total Hi-Perf Ride for Legends and Total Quartz Bonnet PeCharcha. Both these had a reach of 9 Mn+ and the former created awareness about change-makers in India which are unsung legends.
Launched the Mechanic Appreciation Campaign at Total which felicitates a forgotten entity in India – auto mechanics. The campaign brings to light their good work culminating with an on-ground felicitation event partnering with Network 18.
Created and implemented an integrated communication campaign for Total Lubricants with an integrated media strategy. Aided brand awareness increased from 46% in 2016 to 63% in 2017.
Winner of the 'World of Difference' employee CSR program at Vodafone where she worked with NGO Shelter Associates in shaping its PR & Advocacy strategy to foster sanitation efforts in India
Professional area of expertise:
Education:
Work Experience:
Marketing & Corporate Communications,
Innovation
CSR

Master's in Business Administration from T.A.Pai Management Institute (Manipal)