Magazine
Renewable Energy and Green Hydrogen: A perspective for the future
The green hydrogen program and the net zero goal can be very important in boosting the economy, cutting CO2 emissions, making jobs available, and enhancing the quality of life.
December 13, 2022. By News Bureau
Renewable Energy is the energy produced from renewable sources that are constantly and naturally replenished at a higher rate than they are consumed. Green Hydrogen is produced by Electrolysis of water using electricity from renewable energy sources with no harmful greenhouse gas emissions. Decarbonizing the planet is one of the most important goals that countries around the world have set for 2050. To achieve this, producing green hydrogen is the key. Hydrogen is the most abundant chemical in the universe, making up to 75% of all substances. The world is looking at Hydrogen as a solution for energy requirements and could be the key to fight and curb climate change by replacing fossil fuels.


According to the IEA's report published in 2021, India is the third-largest energy consumer in the world. Since 2000, our energy consumption has doubled, and 80 per cent of our energy needs are still met by coal, oil, and solid biomass. Only 3 per cent of our energy needs are met by renewable energy sources.

Solar power is set for explosive growth in India, as India target to reach 450 GW of Renewable capacity by 2030 considering India's electricity dem is set to increase much more rapidly than its overall energy demands.

In 2020, India's hydrogen demand stood at 6 million tons per year and is expected to grow up to 28 million tonnes by 2050, where 80% of the demand is expected to be green. To achieve this target, renewable energy especially solar power is going to play the most important part.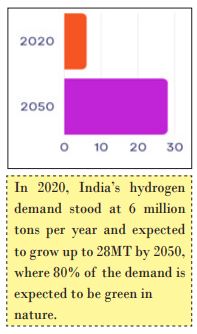 In the coming future dedicated solar and wind power plants will be required to provide the required energy to run the Electrolyzer for the production of green hydrogen.

The math of Renewable energy and green hydrogen:Here is the math (Considering Solid Oxide Electrolyzer & 100% power requirement is fulfilled by solar power)

• 37KWh electricity is required to produce 1kg of H2
• 1KW solar power plant approximately produces 3-4.5KWh of energy per day (depending upon the region & its DNI)
• Approximately 10KW solar power plant is required to produce 1Kg of H2 per day or 365Kg per year.


To achieve the H2 production target set by India which is 12 million tons by 2030 and 28 million tons by 2050 around 330GW of dedicated solar power capacity is required by 2030 and 770GW of dedicated solar power capacity is required by 2050, considering 100% requirement is met by green hydrogen.

National Hydrogen Mission and Role of Renewable energy:
Prime Minister Narendra Modi put forth India's Vision to achieve carbon neutrality by 2070 along with an additional aggressive near-term target of 500GW of renewable capacity. India is working towards the goal to achieve the following targets.
• The world's largest Electrolyzer has a capacity of around 60GW by 2030.
• The world largest producer of green Steel at 15-20 million tons by 2030.
• The world's largest Electrolyzer manufacturing capacity of 25GW per year by 2028.
• The world's largest producer of green ammonia by 2030 may require around 100GW of green Hydrogen.
• Around $1 billion investment in research & development of green hydrogen.
• Target to achieve the cost of green hydrogen to $1/Kg.
• Target to achieve 160GW of green hydrogen capacity.

Financing green hydrogen and industry demands

Mobilizing finance:
Mobilizing funds will be a crucial component in achieving the goals set to power the transition to green hydrogen. The government can promote startups and researchers with grants and loans, assist entrepreneurs with investor networks, and develop policies that minimize the risks associated with being the first to market. The public should be encouraged by the government to increase their demands. Institutions for climate finance and multilateral development banks can also support the promotion of manufacturing. Private investment is also necessary to support manufacturing and research. Corporate venture capital can offer the chance to increase production to handle the demand.

A robust plan to blend hydrogen: To spur early demand that will bolster the manufacturing industries and investors, a clear plan should also be established for blending hydrogen in current and future consuming sectors. Actions should be done right away to develop and harmonize standards. Standards, labelling, and tracing mechanisms for innovative items like Electrolyzer and fuel cells.

Skill development: Skill development will also play an important part in achieving the net zero goal. Technological skill development is the most efficient strategy to drive business outcomes. To get the intended results, a skilled scalable skill programme was created. A hydrogen skill development program should also cover business models, policy concepts, and implementation strategies in addition to technology. An effort should be made from all academic angles, including government-funded and commercial institutions, as well as specifically targeted skill development programs led by specialists in the business.

Conclusion
Since the beginning of the twenty-first century, renewable energy has set the pace for the green energy movement. In addition to lowering carbon footprints, renewable energy has created thousands of jobs.

The green hydrogen program and the net zero goal can be very important in boosting the economy, cutting CO2 emissions, making jobs available, and enhancing the quality of life. Despite numerous obstacles, including energy needs, technological limitations, financial constraints, etc., the globe is working to overcome these obstacles and reduce the price of hydrogen to about $1–2/Kg.


The de-carbonization of industries like steel, fertilizers, ships, and automobiles will be hydrogen's largest triumph. India has a special chance to lead the world in the hydrogen economic system. India has the potential to generate & export hydrogen at the lowest possible cost before any other nation in the world with the right guidelines, governmental backing, implementation strategy, & zeal. The brightest minds in the world are collaborating to decarbonize the planet and slow down climate change to create a better world.

- Jayant Pandey, Sales Head – North, DhaSh PV Technologies Pvt Ltd
Next events
SNEC 17th (2024) International Photovoltaic Power Generation and Smart Energy Conference & Exhibition
June 04, 2024
...
more information
Last interviews
Follow us