HYDROPOWER
India's Hydro Power so far and some interesting case studies from Hydro power producers in India.
Energetica India.
Power is one of the most critical components of infrastructure crucial for the economic growth and welfare of nations. The existence and development of adequate infrastructure is essential for sustained growth of the Indian economy.
India's power sector is one of the most diversified in the world. Sources of power generation range from conventional sources such as coal, lignite, natural gas, oil, hydro and nuclear power to viable non-conventional sources such as wind, solar, and agricultural and domestic waste. Electricity demand in the country has increased rapidly and is expected to rise further in the years to come. In order to meet the increasing demand for electricity in the country, massive addition to the installed generating capacity is required.
India ranks third among 40 countries in EY's Renewable Energy Country Attractiveness Index, on back of strong focus by the government on promoting renewable energy and implementation of projects in a time bound manner.
India has moved up 73 spots to rank 26th in the World Bank's list of electricity accessibility in 2017, according to Mr Piyush Goyal, Minister of State (Independent Charge) for Power, Coal, Renewable Energy and Mines, Government of India.
In September 2017, the Government of India launched the Saubhagya scheme to provide electricity connections to over 40 million families in rural and urban areas by December 2018 at a cost of US$ 2.5 billion.
Market Size
Indian power sector is undergoing a significant change that has redefined the industry outlook. Sustained economic growth continues to drive electricity demand in India. The Government of India's focus on attaining 'Power for all' has accelerated capacity addition in the country. At the same time, the competitive intensity is increasing at both the market and supply sides (fuel, logistics, finances, and manpower).
Total installed capacity of power stations in India stood at 334,146.91 Megawatt (MW) as on February, 2018.
The Ministry of Power has set a target of 1,229.4 billion units (BU) of electricity to be generated in the financial year 2017-18, which is 50 BU's higher than the target for 2016-17. The annual growth rate in renewable energy generation has been estimated to be 27 per cent and 18 per cent for conventional energy.
The number of small hydro power projects set up in India stood at 1,085 with total installed capacity of 4,399.355 megawatt (MW) as of November 30, 2017.
Key reasons for delays include time taken for approvals and clearances, slow pace of work at the site, sites often being inundated by floods, agitation against the project by the affected population, financial issues as well as poor geology.
Considering the cost overruns of delayed and stalled projects, investments required for concurred projects as well for those under survey and investigation stage, a total investment of Rs 1,737 billion will be required for the realisation of the total hydro power capacity. The magnitude of this investment is likely to increase with further delay in the execution of these projects.
Considering the inherent variability of solar and wind power and the country's need to go green, the grid-balancing act will have to be increasingly taken over from coal by hydro power, making its development essential for the Indian power system. Hydro power plants have the ability to be quickly ramped-up, especially in the case of pumped storage hydro power plants. Unfortunately, India has only nine of these plants developed so far.
The financing sentiment in the hydro power sector has been quite damp in the past two years with no major financial closure being reported. Stressed projects and assets have led to mergers and acquisitions in the sector as companies are looking to sell assets to reduce the burden of debt.
Hydro Power Project Classification
Hydro power projects are generally categorized in two segments i.e. small and large hydro. In India, hydro projects up to 25 MW station capacities have been categorized as Small Hydro Power (SHP) projects. While Ministry of Power, Government of India is responsible for large hydro projects, the mandate for the subject small hydro power (up to 25 MW) is given to Ministry of New and Renewable Energy.
We are taking a look at some of the interesting case studies of Hydro power producers in India. In our forthcoming edition we will try and collaborate more on Hydro power projects.
Case study: Teesta III, 1200 MW, Sikkim a project by ANDRITZ Hydro Pvt. Ltd , Neelav Samrat De, General Manager – Market Management.
(Teesta III Power house)
Athena Power, an IPP, was granted the developer license to develop Teesta III located in Sikkim on a BOOT basis for a period of 35 years. A SPV was created namely as Teesta Urja to undertake this project with a gross head of 800 meters.
About the project:
ANDRITZ Hydro was entrusted with the responsibility to provide the electro-mechanical equipment of the plant in October 2007, which has 6 Pelton units of 200 MW output each. The 6 units were commissioned in succession by April 2017 and connected to the grid successfully.
Challenges faced:
One of the biggest challenges faced was the transportation of heavy consignments in an extremely hostile terrain which was a mammoth task.
Another set-back faced during construction was the massive earthquake that struck in September 2011. The epicentre of this destructive earthquake was the project site itself. Due to this, the construction schedule initially for 46 months was revised, setting the milestones behind.Loss of life took its toll during the construction of this project during the earthquake.
Following the earthquake, another incident occurred which involved the collapse of one of bridges on the main road to the project site. The collapse of the bridge impeded the transportation of heavy consignments for a further period of another 23 months.
Current capacity:
The run-of-river hydropower plant will generate 5,269 GWh of electricity annually, dependable for 90% of the year. It feeds 1200 MW of power to the grid currently.
Case Study : Bhira Hydroelectric Project by Tata Power Company Limited. Commissioning and Operational Experiences of 150MW Bhira Pumped Storage Unit. Mr Ashwini kumar Patil, Head – Hydros.
Bhira Hydroelectric Project
About the project:
Bhira Hydroelectric Project is the third hydropower plant installed by The Tata Power Company Ltd. in 1927. Bhira is a small village located about 150 km from Mumbai, in Maharashtra. The Bhira power station with 6 x 25 MW (150 MW) generating units (double overhang Pelton turbines) and 150MW Pumped Storage Unit. The Bhira Pumped Storage Unit was the single largest such unit in India when commissioned in 1995.
Tata Power has successfully commissioned a 10kW micro-hydro project at Bhira in 2014. The low-head, micro-hydro turbine installed in the tailrace of the 150MW Bhira hydro power station utilises the existing flow rate available to generate energy.
The challenges faced that makes this one of a unique project.
Commissioning and Operational Experiences of 150MW Bhira Pumped Storage Unit. It consists of two parts namely BPSU
Commissioning and Pumping Criteria. First part gives various technical details related to stability of the machine at speed-no-load and method to improve the same. The second part covers operational experiences gained related to pumping operation.
The current capacity of this power plant is 150 MW
Case Study: Purulia Pumped Storage Plant Hydro Plant in India by Toshiba India Private Limited (TIPL). Tomohiko Okada, Managing Director.
About the Project .
Purulia Pumped Storage Plant is one of the most prestigious Hydro Plants in India. The key benefit of the system is to support balancing of load.
Challenges in Hydro Project.
In context to challenges in any Hydro Project, execution depends on lot of factors like geology, topography, hydrology and accessibility to project area.
Difficult terrain, hostile weather coupled with lack of adequate Transmission & Distribution (T&D) system, adversely affects developments of Hydroelectric Projects (HEPs).
Land acquisition, environmental clearance and litigations may also result in delays and consequent cost overruns.
Besides, the lack of a compulsory hydropower purchase obligation impacts the signing of long-term PPAs and financial closure for projects.
Current Capacity of the plant Purulia PSPP (West Bengal), 4 x 225MW (2008)
Case Study : Ambhuthirtha Power Plant, Jog also known as MGHE TRS Mahatma Gandhi Hydro Electric Tail Race Scheme Project by Soham Renewable Energy . Mr. Sanjith Sadanand Shetty,Vice Chairman and Managing Director.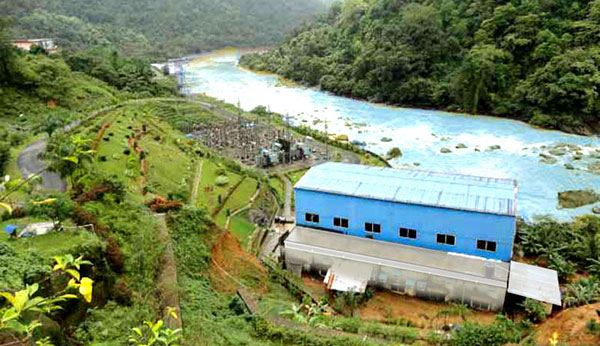 Mahatma Gandhi Hydro Electric Tail Race Scheme Project.
About the Project.
Soham takes pride in the fact that this small hydro project at Jog falls is the first of its kind in India to be registered under the United Nations for Framework convention on Climate Change (UNFCCC). Situated near one of the Asia's largest, waterfalls, the project is a 22 MW hydropower plant commissioned in 2007. This landmark project is considered by many to be a benchmark for all such future endeavors. It was the first to take initiative and trade its CERs with Japan's second largest energy utility firm. The success of this project has allowed Soham to initiate plans aimed at further enhancing and upgrading the scope of the plant's operations. But along wth success there were definite challenges.
The challenges faced that makes this one of a unique project.
Flash Flood: Often during monsoon season severe storms and torrential rainfall have resulted in record flooding on several streams in the jog region. Flash flooding has twice caused extensive damage to power house and plant infrastructure and washed away the road also. Fortunately, the flash flooding caused only material damage around the hydroelectric project. The damage was primarily associated with surface erosion, scour and inundation. However, the flooding presented challenges in accessing and operating the plant and repair work had to be undertaken at war footing
Gradual Sedimentation Hydropower reservoir typically requires water level to be kept at minimum design level to store as much energy as possible for daily hydro power generation as well as to prevent any spillage at dam. However, as the reservoir storage volume is lost due to sedimentation, energy output from plant is affected, reservoir gradually losses capability to contain large flood inflows and control release of flood discharge through the spillway is Inevitable.
Trash Removal: Here is a small case study at Jog fall plant where-in we have been able to successfully improve our operational effectiveness. Operational effectiveness includes efficiency but is not limited to only efficiency. The trash from waste such as cut down trees and weeds clogged the trash rack leading to reduction in power. Operation and maintenance problems associated with trash control facilities often cost a lot each year in form of extra labor, equipment repair costs, and interference with scheduled water deliveries. Our ingenious Team Soham at Jog devised a simple solution to reduce the number and severity of trash related problems. Our construction team developed a scheme by which the trash so collected flows over an opening . This is made possible by cutting the wall directly thereby reducing down trash menace clogging the trash rack and increase in the overall power output.
Current Capacity of the plant: A 22 MW hydropower plant.
Sources :
* Hydro Power 2017 research done by Research and Markets
*Ministry of New and Renewable Energy
*Power sector in India by India Brand Equity Foundation.
|
Article published on 03/07/2018 by Moulin