Magazine
EV Decade is Here and Batteries will be Pivotal in India's EV Transition
It is a well-known fact that India doesn't have much of minerals needed for battery cell manufacturing, be it Lithium, Cobalt or Nickel. So, India needs to rely on battery recycling and needs a large number of zero effluent recycling plants.
March 23, 2022. By News Bureau
Li-Ion Battery Technology:
Battery technology is progressing on several fronts. On the Energy Cost, the trend is moving away from Cobalt, due to cost and safe mining concerns. Removing C (Cobalt) from NMC (Nickel-Manganese-Cobalt) chemistry has been a key focus of research. The energy density is also improving with NMC111 to NMC532 to NMC811. The numbers indicate the percentage of Nickel, Manganese and Cobalt in the cell, for e.g., NMC811 indicates 80% Nickel, 10% Manganese, and 10% Cobalt. On the Safety front, Solid-state electrolytes are replacing the flammable electrolytes and significantly improves the safety. On the Energy Density (Wh/Kg) front, Silicon anodes, Lithium metal anodes are key to improving energy density. On the Cycle Life, there is a move towards of abundant materials with higher cycle life, is resulting in resurgence of LFP chemistry.

EV Policy Interventions
India's Advanced Cell Chemistry (ACC) PLI scheme is `18,100 crore production-linked incentive (PLI) scheme for building Tesla-style giga factories to manufacture batteries. It focuses on battery Cycle Life as a parameter for the incentive and is envisioning cycle life of 4000 cycles and above (Figure 1). The scheme is technology agnostic and determined by energy density and cycle life with higher subsidy for cells with better quality and higher performance. The plan is to set up 50 giga watt hour (GWh) manufacturing capacity for advance chemistry cell batteries by attracting investments totaling `45,000 crore.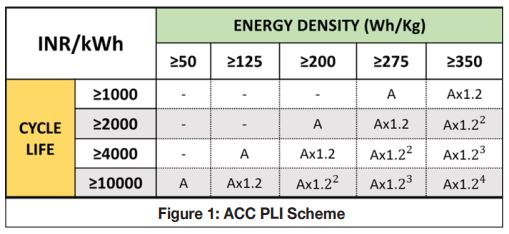 Each selected ACC battery manufacturer would have to commit to set up an ACC manufacturing facility of minimum 5GWh capacity and to ensure a minimum 60% domestic value addition at the project level within five years. The incentive to be paid out based on sales, energy efficiency, battery life cycle, and localization levels. The beneficiary firms must achieve a domestic value addition of at least 25% and make the mandatory investment of `225 crore /GWh within 2 years and raise it to 60% domestic value addition within 5 years.

Department of Heavy Industries (DHI) rolled out multiple schemes to create demand for EV's and to augment supply. The validity of the FAME II program got extended to Mar 31, 2024 and increased the subsidy for EV-2W under FAME-II policy. On the supply side, in addition to the PLI scheme for ACC battery as mentioned above, another PLI scheme for automobile and auto components also got rolled out. Ministry of Power (MoP) announced the 'Go Electric' campaign for awareness of EV and charging infrastructure. In addition, Govt owned CESL floated tenders to procure large quantities of EV-2W and EV-3W and the Govt also announced the Vehicle Scrappage Policy.


India Specific Requirements
For India's Electric Vehicle (EV) market, cost is a key factor. Need to reduce as much as possible via engineering efficiency and manufacturing scale. Also, EV's have a need for a wide temperature operating range in India and some locations needs continuous operating performance at 50 degree Celsius, which is much higher than the western requirements. Also, 80% of India moves around in 2-wheelers and 3-wheerlers where there is less space for advanced cooling mechanisms in battery compartments. Also, the demand of high cycle life and need for modular batteries which allows for battery swapping and replaceability is a key India specific requirement.

Li-Ion Battery:
Forecast for India Lithium-Ion battery (LIB) market is expected to take off and on a realistic estimate is expected to touch 80GWh by 2030. The demand for Lithium storage by FY26 is expected to be 25GWh. In the optimistic scenario, the projected demand could be 150GWh by 2030. The demand for Lithium-Ion batteries in Rooftop Solar, Telecom Towers, Data Centres and Diesel Generation off-set is expected to be 15GWh by 2030. The EV application is the main driver for Lithium-Ion batteries and it is expected to be 65GWh by 2030.

Li-Ion Battery: Safety First
There are growing energy density requirements and demands for more powerful EV battery systems, which will generate even more heat and pose even greater thermal management challenges. LIB thermal runaway and the presence of flammable components are root causes of battery fires and explosions. The most effective way to dissipate excessive heat is to protect batteries from thermal and mechanical abuse by improving their outer shells. A well-designed battery pack along with advanced Battery Management System can meet much needed safety requirement.

India is on the cusp of EV adoption. Hence, it is imperative for the OEMs to design the battery pack with safety as a singular objective. We can side-step the known pitfalls that the western world has faced if we address the key issues carefully right now!

Li-Ion Battery Recycling:
It is a well-known fact that India doesn't have much of minerals needed for battery cell manufacturing, be it Lithium, Cobalt or Nickel. So, India needs to rely on battery recycling and needs a large number of zero effluent recycling plants. India's import bill would skyrocket if we don't have a viable manufacturer for recycling of Lithium batteries in a short span of time. We need to address this swiftly, as our Lithium cell import would be more than 10GWh by the year 2025, which translates to an import bill of >US $1 billion to our exchequer. Interestingly, this also presents a golden opportunity for India to become the urban-mining capital of the world for Li-Ion battery-materials.

Conclusion:
Our goal for designing batteries to strengthen EV's must be 100% safety. All other parameters can take back-seat. We need to keep in mind that battery design is all about right trade-offs between energy density, cycle life, fast charge, safety, cost etc. It is not possible to maximize on all vectors. Vehicle Homologation looks at the design at beginning-of-life. We also need to factor in ageing of batteries. Design for safety at end-of-life, should be the overarching principle. Need India specific designs for batteries, keeping in mind the operating temp range, humidity etc. in India varies widely. There is no single cell chemistry that would meet all the requirements. End application will determine the right cell chemistry. Hence, designing batteries to strengthen EV's will be all about right tradeoffs to maximize the life.

- Venkat Rajaraman, Founder & CEO, Cygni Energy